Welcome to I See Me! where we provide the highest quality, most personalized children's books available. We opened for business in May of 2000, after a year of active product development. My husband Allan and I received a personalized book as a gift for our first son in 1998. While we loved the fact that it was personalized, we thought that the illustrations could have been much better and the story more customized to the child. Thus I See Me! was born....to read more about their story click here
I got to review one of their personalized books called "My Very Own Name" I thought this was such a great idea & I love how the book turned out it spelled his name Nicholas Lukens his very own book in his name how cool is that. I have a preview of what the pages look like down below:
How neat is that, huh? Neat! I love it; I think it's such a great way for kids to spell their name & learn the letters also. I have his last name like this as well check it out below: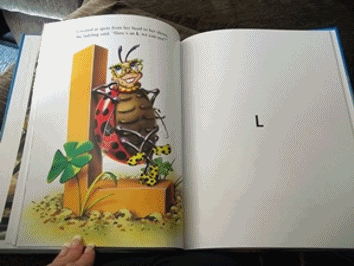 Couldn't get any better. I also love how the images in the book are so glossy. I will defiantly recommend this site to all my family & friends with children. I was very happy to review this & my son carries it around everywhere he goes & says this is my own name book how cute!!!
Check out other Personalized Books from I SEE ME (
here
)
Have a question or concern contact I SEE ME (here)