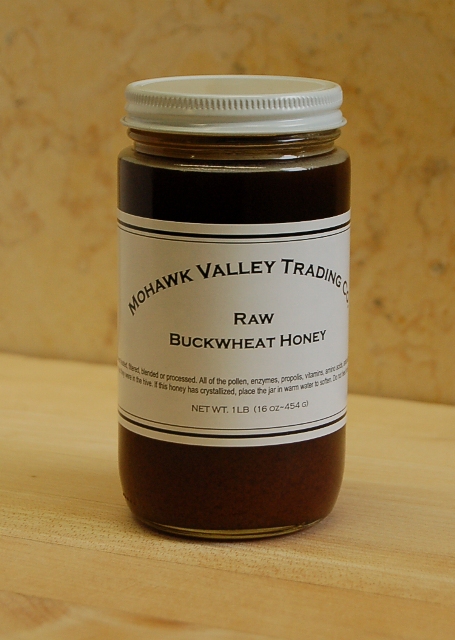 The Mohawk Valley Trading Company is giving away o
ne, 1lb Glass Jar of
their Raw Buckwheat Honey.
This is raw honey; it has not been heated, filtered, blended or processed. All of the pollen, enzymes, propolis, vitamins, amino acids, antioxidants, minerals and aromatics are in the same condition as they were in the hive.
Buckwheat is neither a grass nor wheat, but is a fruit related to rhubarb; it was one of the first crops cultivated in the United States. Dutch colonists brought buckwheat to North America where they planted it along the Hudson River. Buckwheat was sometimes called beech wheat, because its seeds look like small beech nuts.
Buckwheat was an important crop in the U.S. until the demand declined in the 1960's. Buckwheat honey is not a widespread honey and finding it locally may be difficult because today, buckwheat is primarily grown in the northern states.
Buckwheat seeds are also used or making gluten free flour and buckwheat blossoms are an excellent source of nectar and blooming can continue well into the autumn.
Buckwheat hulls are used as filling for pillows and meditation cushions. The hulls are durable and do not conduct or reflect heat as much as synthetic fills and they are an excellent substitute to feathers for people with allergies. However, buckwheat hull pillows made with uncleaned and unprocessed hulls contain high levels of allergens that may trigger an asthma attack in those who are at risk.
From about July through thru October, The Mohawk Valley Trading Company place hives in buckwheat fields on both slopes and the surrounding area of the Central Mohawk Valley and Finger Lakes region of New York. This is the source of their buckwheat honey.
a Rafflecopter giveaway