Disclosure: I received these product/products mentioned on my blog free of charge for the purpose of this review my opinions are my own and may differ from yours!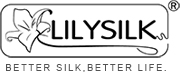 A few words on the company name "Lilysilk":


Lily in Chinese is pronounced "Lin", which is also my name. In Chinese traditions, Lily symbolizes purity, sincerity and refined beauty, the exact qualities that we had aimed to bring you in our products and services when the company was founded . . . to read more about LilySilk click here
I received a Silky Pillowcase from LilySilk to review on my blog. I've been dreaming about using a silk pillow case for my pillow. I loved the word silk and silk is called Queen of Fiber for it's animal protein fibers which is considered as the second layer of human skin.
The pillowcase is smooth and soft and when you touch it it's heaven although my pillow kept slipping off my other pillows because I sleep with 2 other pillows. I like to be comfy (: so with that being said I didn't really enjoy myself with the silk pillowcase. I love the feeling of silk and maybe a blanket would of been more suitable for me instead of a pillowcase. I will have to let my pop-pop try this out and see if he likes it!
Check out more of their products online at